GLOUE
GLOUE Bug Zapper Indoor, 9W Powerful Insect Killer, Plug-in Electric Mosquito Zapper - Power Portable Home Mosquito Flying Insects Trap for Bedroom, Living Rooms, Kitchens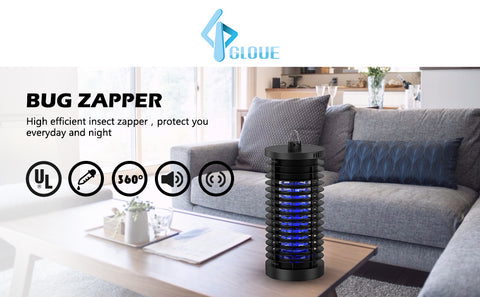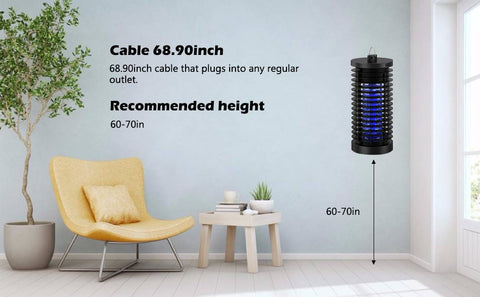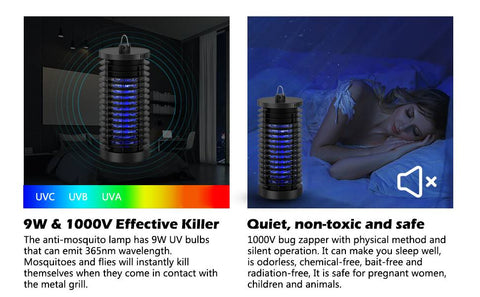 9W Bug Zapper With UL Certification - The electric mosquito killer lamp uses a 360°UV light bulb with a wavelength of 365 Nm to attract insects, and then immediately kill them effectively with a 1000 V electric shock. The mosquito lamp with physical methods and silent operation, no chemicals, no smell and toxic-free, Safe for children, pregnant women and pets.
Safe & Quiet - The metal bars are 0.24 inches apart to prevent fingers from touching the high-voltage mesh. The Mosquito Killer Lamp works very quietly with bug zapper light.
Wider Effective Range - It covers 431 square feet of effective range. You can place the mosquito killer next to the fruits and plants, ideal for bedrooms, living rooms, kitchens, garages, offices, hospitals, gyms hotels, etc. Turn it on three hours before bedtime will have the best effect, you can enjoy a quiet, mosquito-free night.
Easy To Use & Humane - Just plug it into the socket to start it up and place it in a dry place. With its 69 inches power cord there is no need for extension cable.
Easy To Clean Up - To clean the device, rotate to open the tray and clean it directly with water.